Kickboxing
Team Tooke Mixed Martial Arts Cypress Muay Thai Kickboxing lessons in Cypress, TX will get you into phenomenal shape while teaching you real self-defense skills!
Special Online Offer


2 Week Free Trial
Develop insane stamina and cardiovascular endurance while learning the most effective striking art on the planet!
Are you ready to burn 800 calories an hour, look and feel amazing and develop legitimate striking skills with our Kickboxing classes?
Are you a Brazilian Jiu-Jitsu Student or MMA fan wanting to add a solid striking game to your arsenal? Our Muay Thai Kickboxing for self-defense and fitness has everything you need to get in top-notch shape and gain knockout power. Don't be fooled by cardio kickboxing programs claiming to teach real self-defense. Our Muay Thai Kickboxing classes will push your cardio to an all-time high and give you the skills you need to defend yourself.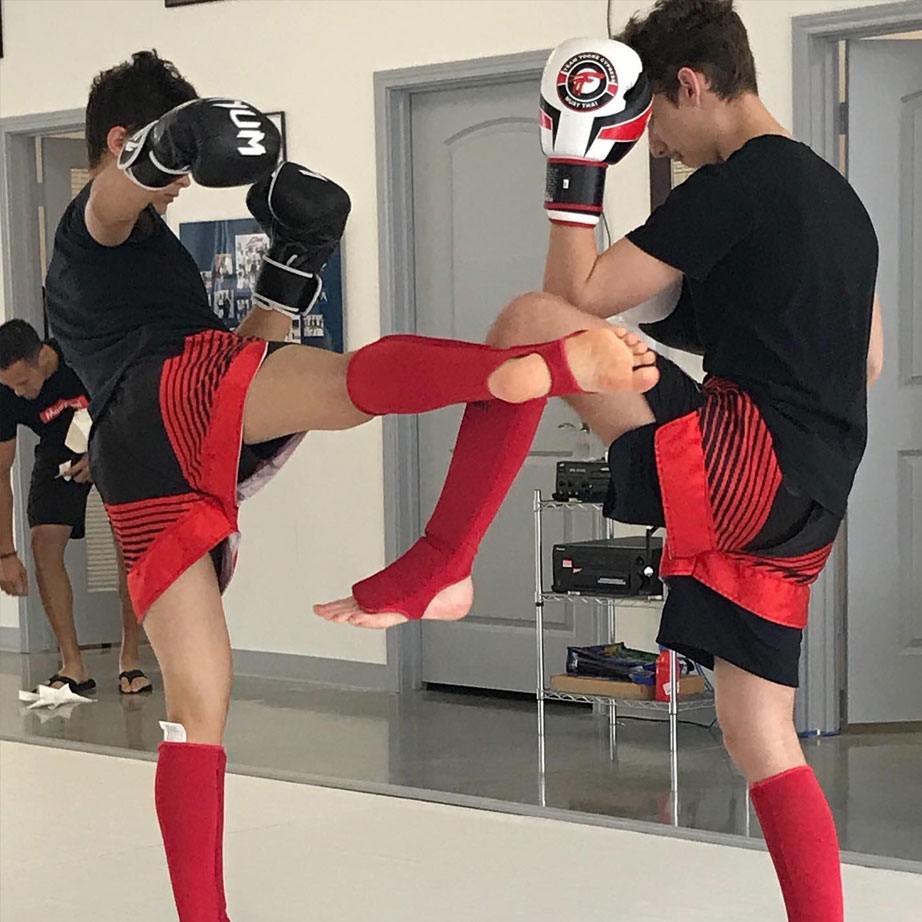 Our Martial Arts Team Takes Great Pride In The Reviews We Receive
See What Our Community Members in Cypress, TX Say About Our Programs
Team Tooke Mixed Martial Arts Cypress Kickboxing classes are exceptional.
"I've been taking both Muay Thai and Brazilian Jiu Jitsu here for a year and I can't say enough good thing about it. Everyone is always so nice and patience, the place is big and super clean, and the classes they offer are exceptional. But most of all it's the relationships to the people here will make you want to invest more time and effort in. I highly recommend it to everyone to come and try it out."
Special Online Offer


2 Week Free Trial
We're Cypress' most popular Muay Thai boxing gym!
Real-World Kickboxing Training in a Safe Environment
Unlike most Cardio Kickboxing programs, where you never actually train with another person, here you will always get the opportunity to work one-on-one with your training partners, and often with the instructor during class. Our Houston Kickboxing program consists of a series of drills that include training in punches, kicks, knees, elbows, combinations of boxing, kickboxing, Muay Thai, and Mixed Martial Arts all taught in a safe and energetic environment.
Did You Know?
Many People Are Attending Team Tooke Mixed Martial Arts Cypress in Cypress, TX So They Don't Become A Statistic
Train in a Safe, and Energetic Environment!
Whether you're looking to learn self-defense, get in shape, relieve stress or get into heavy competition, we will help you reach your goals. Our instructors are some of the best in the nation. You will get quality instruction and personal attention to help you realize your potential. Give us a call today to schedule your free consultation.
We know making the decision to get started is not always easy.
That's why we give you the chance to try all our programs absolutely FREE ONLINE TRIAL. Along with your free kickboxing training, we include a free one-on-one consultation to answer any questions or concerns you may have before jumping into a class. Why are we giving away so much for free? At Team Tooke Mixed Martial Arts Cypress in Cypress, TX, we have complete confidence that we can help you reach your goals and we know that once you give us a try, you won't want to leave. What are you waiting for? It's free. Aside from lots of calories and excess weight, you have nothing to lose.
This is your chance to get into phenomenal shape while learning real self-defense skills. Don't pass up this incredible opportunity, you will regret it!
Team Tooke Mixed Martial Arts Cypress Offers An Exclusive Web Trial Offer.
This is a GIFT that will last a lifetime through school, college and into the work world.
Special Online Offer


2 Week Free Trial
Limited Class Openings
Special Offers
Team Tooke Mixed Martial Arts Cypress Shopping Cart
For all of our surrounding community members in and around Cypress, TX our Martial Arts academy offers a couple online website specials for first-time visitors. These special offers are only seen here and are only valid for first time website visitors.
Offer One
One Week For $10
Offer Two
3 Weeks For $29
Evaluation with an Instructor
Offer Three
8 Weeks for $69
*These are available only on our website. Not good with any other offers.